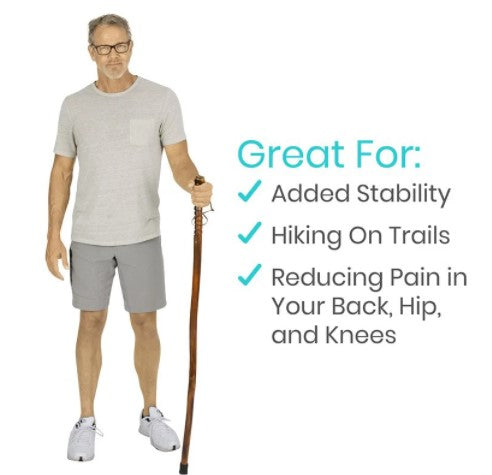 Wooden Walking Stick
Save

0

%
Save %
Original price
$22.00
-
Original price
$22.00
Find the perfect blend of functionality and style with the Vive Wooden Walking Stick. Carefully designed to provide stabilizing support, this walking stick is suitable for all terrains, helping to maintain balance and reduce fatigue during your daily adventures. Our walking stick is meticulously free-formed from a single piece of willow - known for its lightweight yet strong properties. This crafting process ensures that each walking staff is durable, yet easy to carry around.
The walking pole features a non-slip cane tip, which provides enhanced traction on smooth surfaces. This feature offers greater confidence when walking on slippery surfaces or during adverse weather conditions.
Comfort is not compromised - the upper portion of the hiking stick has smooth grooves creating a comfortable, non-slip grip. This thoughtful detail ensures the walking stick feels secure and comfortable in your hand, reducing strain during prolonged use.
To enhance the natural beauty of the wood and protect it from the elements, each cane is finished with a clear, weatherproof protective coating. This finish ensures the durability and longevity of your walking stick, so it can support you for years to come.
Finally, the wooden walking stick comes with a leather wrist strap. Use it to hang the stick for easy storage or loop it around your wrist to prevent dropping.
With the Vive Wooden Walking Stick, you can navigate the world with style, comfort, and confidence.
FEATURES
STYLISH STABILITY
Providing stabilizing support, the Vive wooden walking stick is suitable for any terrain aiding in balance and reducing fatigue



STRONG NATURAL WOOD
Each lightweight walking staff is free-formed with a single piece of willow to create a durable wood cane



NON-SLIP CANE TIP
The walking pole is capped with a large, nonslip rubber tip to provide greater traction on smooth surfaces



GROOVED HANDLE
Smooth grooves along the upper portion of the hiking stick created a comfortable, non-slip grip



CLEAR PROTECTIVE FINISH
Each wood cane is finished with a clear, weatherproof protective coating for durability



LEATHER WRIST STRAP
Use to hang the wooden walking stick for easy storage or loop around your wrist to prevent dropping