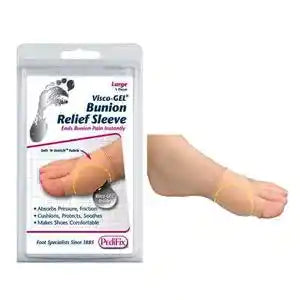 Visco-GEL Bunion Relief Sleeve LRG
Save

0

%
Save

-15

%
Original price
$25.99
-
Original price
$25.99
Visco-GEL Bunion Relief Sleeve is your definitive solution for easing the discomfort associated with bunions. Bunions, or bony bumps at the base of the big toe joint, can be a source of continuous pain. This product is designed to provide relief and comfort, letting you walk freely and confidently once more.

The Visco-GEL Bunion Relief Sleeve is a specially designed sleeve that fits snugly over the affected area. Crafted from a soft, stretchy material, it easily conforms to the shape of your foot, offering comfort and support.

One of the key features of the Visco-GEL Bunion Relief Sleeve is the gel pad that it comes equipped with. This gel pad offers additional cushioning and protection to the bunion, effectively reducing the friction and pressure usually experienced in the affected area. This feature not only alleviates pain and discomfort but also promotes healing.

Moreover, the sleeve plays a crucial role in maintaining foot alignment. It helps to reduce pressure on the bunion and prevent it from worsening. Regular use of the Visco-GEL Bunion Relief Sleeve can lead to significant relief from bunion pain, and it could potentially slow down the bunion's progression.

Please note, while this product is efficient in providing relief, it's not a cure for bunions. If you have severe bunions or other foot conditions, consult with a healthcare professional for the best treatment options.

Experience the comfort and relief provided by the Visco-GEL Bunion Relief Sleeve. Available in large size, it's your answer to bunion pain and discomfort.