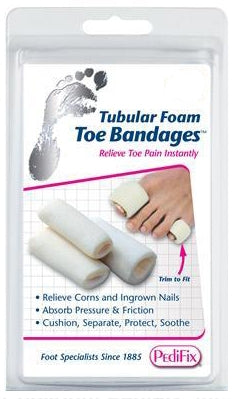 Tubular Toe Bandage Pedifix® Pull-On
Save

0

%
Save %
Original price
$7.49
-
Original price
$7.49
Tubular Foam Toe Bandages are useful for protecting and cushioning toes that are affected by various foot conditions. They are designed to be worn on the toes and can help to provide relief from pain and discomfort caused by blisters, corns, calluses, or other injuries to the toes.
The bandages are made from a soft and flexible foam material that is gentle on the skin and can be worn comfortably throughout the day. They come in a variety of sizes and can be cut to fit the specific shape and size of the affected toe.
Tubular Foam Toe Bandages are useful for several reasons. First, they can help to reduce friction and pressure on the toes, which can help to prevent further damage and promote healing. They can also help to provide cushioning and support, which can reduce pain and discomfort and improve mobility.
The bandages are also useful for people who have difficulty wearing traditional footwear due to their foot condition. They can be worn with open-toed or loose-fitting shoes, sandals, or flip-flops, making them a versatile and practical solution for people who want to maintain their comfort and mobility while managing their foot condition.