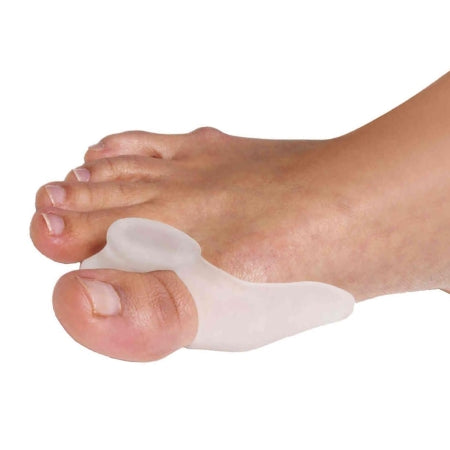 Toe Spacer/Bunion Guard Combo
Save

0

%
Save %
Original price
$13.99
-
Original price
$13.99
The Toe Spacer/Bunion Guard Combo by Pedifix is a versatile and effective medical device designed to provide relief for individuals suffering from bunions or other foot conditions that affect toe alignment. If you experience pain and discomfort caused by these conditions, this device can help alleviate your symptoms and promote proper toe alignment for improved foot health.

This combo consists of two essential components: a toe spacer and a bunion guard. The toe spacer is a small, soft device that is inserted between the big toe and the second toe. By creating a gentle separation, it encourages proper alignment and prevents overlapping of the toes. This promotes better weight distribution and reduces pressure on the affected areas.

The bunion guard, on the other hand, is a cushioned pad that fits comfortably over the bunion. It acts as a protective barrier, shielding the sensitive area from friction and reducing pressure. This helps to alleviate pain and discomfort associated with bunions and prevents further irritation.

The Toe Spacer/Bunion Guard Combo offers several benefits. Firstly, it provides immediate relief from pain and discomfort caused by bunions and overlapping toes. By promoting proper toe alignment, it can prevent the condition from worsening and potentially improve it over time. Moreover, this non-invasive device offers a cost-effective alternative to more invasive treatments like surgery, making it an accessible option for individuals seeking relief.

Choose the Toe Spacer/Bunion Guard Combo by Pedifix and experience the comfort and relief you deserve. Take a step towards healthier feet and bid farewell to foot discomfort caused by bunions and misaligned toes.

| | |
| --- | --- |
| Application | Toe Separator |
| Color | Opaque |
| Fastening Type | Pull-On |
| Size | One Size Fits Most |
| Target Area | Foot |
| UNSPSC Code | 42241706 |
| User | Adult |