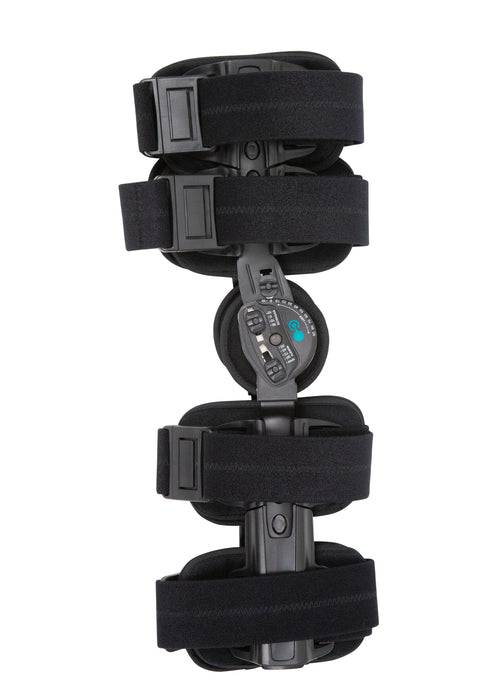 ROM Hinged Knee Brace
Save

0

%
Save %
Original price
$127.99
-
Original price
$127.99
REVERSIBLE & ACCOMMODATING SIZING
Non-slip fastening straps are also adjustable and can be cut for further customization. Ideal for rehabilitation following strains, patella realignment, ACL repair, and other knee-related surgeries.
ADJUSTABLE RANGE OF MOTION
Customize the degree of movement. Use the locking dial to set the preferred angle in place. Motion dials can be altered from an extension of 30° to -10° and flexion of 30° to 90°.
SUPERIOR KNEE RECOVERY SUPPORT
Every support disc is padded for extra relief. Helps reinforce and stabilize the knee to reduce re-injury risks and encourage proper healing.
Aluminum alloy construction allows durability with a weightless feel. Easy to open and release buckles and non-slip lining makes wearing over clothes simple and comfortable.
Description:
Promote healing and help prevent further injury by stabilizing and supporting the knee. The Coretech ROM Knee Brace fits most adult leg sizes with an extension range between 18" to 23.5". Anti-slip lining and aluminum alloy backing make wearing over or under clothing comfortable and light.
Easy-to-use locking dial, choose from an extension of 30° to -10° and flexion of 30° to 90°. A controlled range of motion between 120° to open flexion and 90° to 0° of extension helps provide the support needed for a more comfortable and stable healing process. Commonly used with 397 Suspension Sleeve.


What's Included:
- 1 ROM Knee Brace
Color: Black
Dimensions: 18.5 x 7 x 3.5 in (Lx W x H)
Thickness: 0.75 in / 0.19 cm
Weight: 2 lb
Materials: Aluminum alloy, PP plastic, Nylon, Polyester.
Latex-free.
Universal Size: Fits left and right legs
Push-button adjustable struts in 0.75" increments.
Can be worn under or over clothes, also can be slept in.
Length range: 18" – 23.5"
Adjustable flexion: 90°, 70°, 40°, 30°
Adjustable Extension: 30°, 10°, 0°, -10°