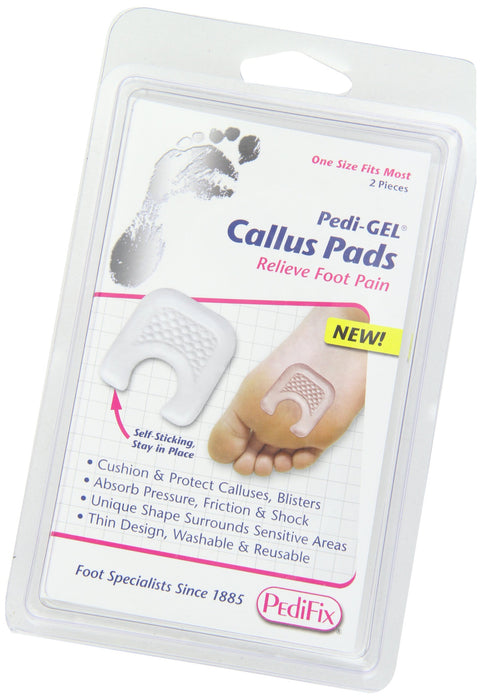 Pedi-GEL Callus Pads Self Sticking ONE SIZE
Save

0

%
Save

0

%
Original price
$11.99
-
Original price
$11.99
Introducing Pedi-GEL Callus Pads - your one-stop solution for callus-related discomfort. Calluses are toughened areas of skin that develop due to repeated friction or pressure on your feet. They can be caused by regularly wearing tight or ill-fitting shoes, frequent walking or standing, and more.

Pedi-GEL Callus Pads are designed to deliver effective relief from the pain and discomfort caused by calluses. These self-sticking pads are intended to be placed over the callus, providing a soft cushioning layer that protects the affected area from further friction or pressure.

The unique gel material of Pedi-GEL Callus Pads conforms to the shape of your foot, offering a comfortable fit. These pads are self-adhesive, ensuring they stay in place for long-lasting protection and relief.

Regular use of Pedi-GEL Callus Pads can lead to significant relief from callus-related discomfort. They help protect your feet from further damage and can promote the healing of your skin.

Pedi-GEL Callus Pads are a practical and convenient solution for those dealing with callus discomfort. They're easy to apply, provide immediate relief, and are versatile enough to be used with any footwear.

Please note: While Pedi-GEL Callus Pads offer effective relief, they are not a cure for calluses. If you're dealing with severe or persistent calluses, it's best to consult with a healthcare professional for further treatment options.

Walk with comfort and confidence today with Pedi-GEL Callus Pads. Say goodbye to callus discomfort, and enjoy your daily activities pain-free!