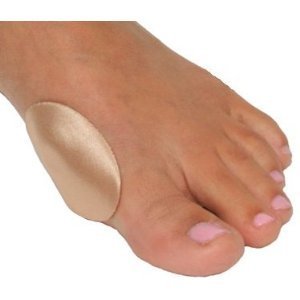 Pedi-GEL Bunion Shield ONE SIZE
Save

0

%
Save

0

%
Original price
$11.99
-
Original price
$11.99
The Pedi-GEL Bunion Shield is a supportive product designed for those who suffer from bunions, which are bony protrusions that form at the base of the big toe joint. These can be painful and uncomfortable, often caused by ill-fitting footwear or genetic predisposition.

The Pedi-GEL Bunion Shield is a soft, flexible gel pad that is worn over the bunion. Its primary function is to provide cushioning and protection to the bunion, reducing the friction and pressure exerted by footwear. This can help alleviate the pain and discomfort associated with bunions.

Designed to conform to the shape of the foot, the Pedi-GEL Bunion Shield can be worn comfortably throughout the day. Its one-size design is versatile and fits most foot sizes, offering relief to a wide range of users.

With regular use, the Pedi-GEL Bunion Shield can help manage the symptoms of bunions, offering users increased comfort and mobility. However, it's important to note that while it helps in managing symptoms, it's not a cure for bunions. Consultation with a healthcare professional is recommended for severe bunions or if symptoms persist.