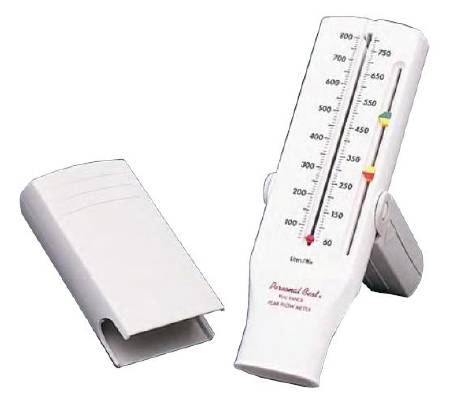 Peak Flow Meter Rx Required
Save

50

%
Save

50

%
Original price
$57.98
-
Original price
$57.98
A peak flow meter is a handheld device used to measure how well a person's lungs are working by assessing their ability to breathe out forcefully. It measures the maximum airflow rate or "peak expiratory flow" (PEF) that a person can achieve during a forceful exhale.

Peak flow meters are commonly used to monitor asthma, a chronic respiratory condition that causes inflammation and narrowing of the airways, making it difficult to breathe. By regularly measuring a person's peak flow, they can track changes in lung function and detect early signs of an asthma attack.

Peak flow meters are also used to monitor other respiratory conditions such as chronic obstructive pulmonary disease (COPD) and bronchitis.

Using a peak flow meter involves taking a deep breath and then blowing as hard and fast as possible into the device. The meter then displays the PEF in liters per minute, which can be compared to a person's baseline reading or normal range to track changes in lung function.