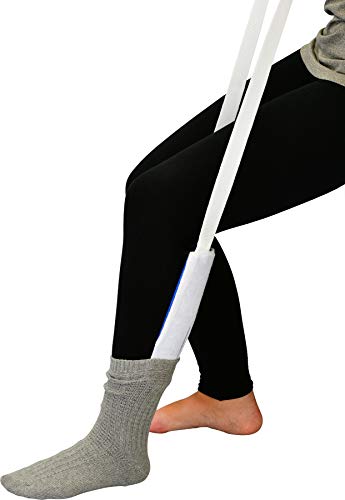 NOVA Sock & Stocking Aid, Soft Terry Cloth & Flexible, Easy to Use with Pull Up Straps
Sold out
Original price
$9.95
-
Original price
$9.95
The NOVA Sock & Stocking Aid is a practical and effective tool for individuals who struggle with bending, limited flexibility, or limited reach when it comes to putting on and taking off socks. Designed with convenience and ease of use in mind, this aid provides a solution to regain independence and maintain daily routines without relying on assistance from others.

The sock aid features a soft terry cloth surface that offers a gentle yet firm grip on socks, allowing you to easily pull them up without tearing the fabric. The terry cloth material ensures a secure grip while being gentle on your socks and hands. The large loop handles provide an ergonomic grip, making it easier to handle and pull the socks up.

Versatile and flexible, the NOVA Sock & Stocking Aid works with a wide range of sock lengths, including ankle length, knee length, booties, crew cut, calf length, athletic, trouser, dress, quarter-length, and no-show socks. Whatever type of socks you prefer, this aid will assist you in putting them on effortlessly.

This sock aid is particularly beneficial for the elderly, disabled, and handicapped individuals who may have difficulty with bending or reaching their feet. By using the NOVA Sock & Stocking Aid, they can maintain their independence and perform the task of putting on socks with ease.

The device is designed to be user-friendly and easy to use. Carex specializes in disability aids and understands the needs of seniors, handicapped individuals, and the elderly. The NOVA Sock & Stocking Aid is a testament to their commitment to simplicity and functionality.

Regain your independence and enjoy the convenience provided by the NOVA Sock & Stocking Aid. Experience the ease of putting on and taking off socks without the need for bending or assistance. With its soft terry cloth surface, pull-up straps, and versatile design, this aid is an essential tool for individuals with limited flexibility or reach.