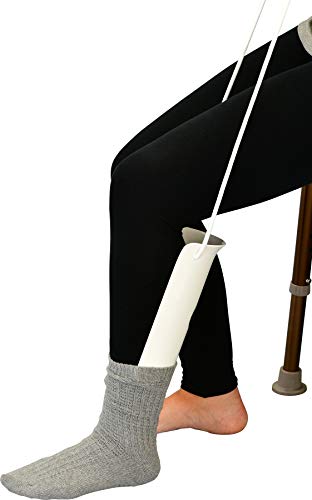 NOVA Sock & Compression Stocking Aid, Easy to Use with Adjustable Pull Up Handles
Save

0

%
Save %
Original price
$24.95
-
Original price
$24.95
The NOVA Sock & Compression Stocking Aid is a practical and helpful tool for individuals who struggle with putting on socks or stockings. Whether you have limited mobility, arthritis, or are recovering from back, hip, or knee surgery, this aid will make the process easier and more convenient.

The key feature of this aid is its adjustable pull-up handles. These handles allow you to pull up your socks or compression stockings with ease, reducing the need for excessive bending or straining. This is especially beneficial for individuals with limited flexibility or those who are recovering from surgery.

With the NOVA Sock & Compression Stocking Aid, you can regain independence and maintain your daily routine without relying on others for assistance. Simply place your sock or stocking onto the aid, hold onto the handles, and gently pull up. The design ensures a secure grip and a smooth sliding motion, making the task effortless.

This aid is not only practical but also durable. It is made from high-quality materials that are built to last. The adjustable pull-up handles provide a customized fit for different hand sizes, ensuring maximum comfort and control during use.

The NOVA Sock & Compression Stocking Aid is suitable for a wide range of socks and compression stockings. It accommodates various sizes and thicknesses, making it versatile and adaptable to your needs.

Say goodbye to the frustration and discomfort of struggling to put on socks or compression stockings. With the NOVA Sock & Compression Stocking Aid, you can effortlessly and independently handle this daily task. Regain your independence and make the recovery process smoother and more comfortable. Enjoy the convenience and ease of use provided by this practical aid.