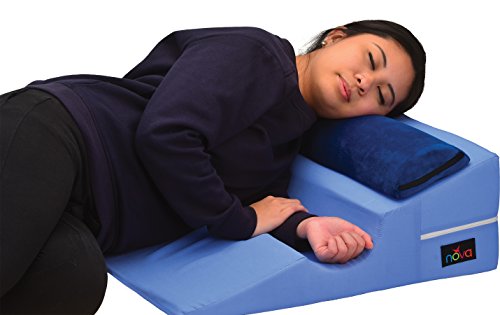 NOVA Bed Wedge for Back & Side Sleepers with Half Roll Pillow Insert, Bed Wedge with Cut Out for Side Sleepers, Combo Bed Wedge & Half Roll Pillow
Save

0

%
Save

0

%
Original price
$59.95
-
Original price
$59.95
You can use a NOVA Bed Wedge for Back & Side Sleepers for several reasons, including:

Relief from acid reflux and heartburn: Sleeping on an inclined surface can help to reduce the symptoms of acid reflux and heartburn by keeping stomach acid from flowing back up into the esophagus.

Relief from snoring and sleep apnea: Elevating the head and upper body can help to reduce snoring and improve breathing for people with sleep apnea. Improved circulation: Elevating the legs can improve blood flow to the lower legs, which can help to reduce the risk of blood clots and other circulatory problems.

Relief from back pain: Using a bed wedge can help to improve spinal alignment and reduce pressure on the lower back, which can help to reduce back pain.

Better sleep quality: The NOVA Bed Wedge can help to promote deeper, more restful sleep by reducing discomfort and promoting relaxation.

Overall, using a NOVA Bed Wedge for Back & Side Sleepers can provide several benefits for people who experience acid reflux, snoring, sleep apnea, circulatory problems, back pain, or discomfort while sleeping. It can also help to improve sleep quality and promote relaxation.

We love the Bed Wedge with Half Roll Pillow because we know some people are back sleepers, some people are side sleepers and a lot of us are both! This unique wedge allows you to sleep and rest with elevation on your side and on your back. And wait. there's more! The Half Roll Pillow insert has so many comfy options for the neck, knees and back. you can choose that too.