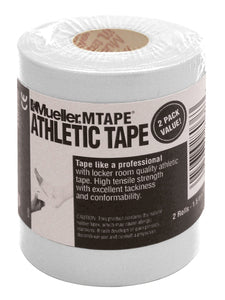 Mueller Mtape, Athletic Trainers Tape - 2 Pack
Save

0

%
Save %
Original price
$6.99
-
Original price
$6.99
The Mueller Mtape, Athletic Trainers Tape, offers the perfect solution for individuals seeking support and stability for weak, injured, or unstable body parts. Whether you're an athlete, sports enthusiast, or dealing with an injury, this athletic tape is designed to provide reliable support during physical activities, enabling you to stay active and protected.

The tape's high-quality construction ensures that it adheres securely to your body, providing the support you need to perform at your best. It offers a firm hold, giving you the confidence to move with freedom and agility.

Whether you require additional support for sprains, strains, or general muscle weakness, the Mueller Mtape is your go-to solution. It helps you maintain proper form and alignment, reducing the risk of further injury and discomfort.

The convenience of a 2-pack ensures you always have a backup tape on hand, making it ideal for regular use or when participating in sports and physical activities.

With its durable and reliable design, the Mueller Mtape is a staple for athletes, athletic trainers, and individuals seeking enhanced support for various body parts. Experience the difference it makes in your performance and recovery.

Order the Mueller Mtape, Athletic Trainers Tape - 2 Pack now and discover the dependable support and stability it provides. Whether you're recovering from an injury or need extra reinforcement during physical activities, this athletic tape will be your trusted companion. Stay active, protected, and at your best with the Mueller Mtape.