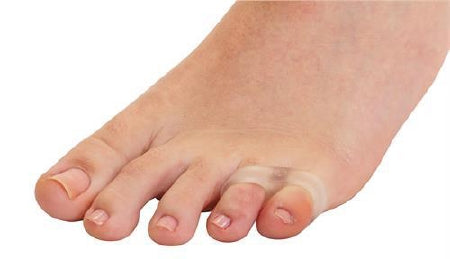 Little ToeBuddy, One Size Fits Most
Save

0

%
Save %
Original price
$8.99
-
Original price
$17.00
"Little Toe Buddy" by McKesson is a medical device that is used to align and cushion the little toe. It is designed to be worn on the little toe of the foot and can help to relieve pain and discomfort caused by various foot conditions such as overlapping toes, corns, and blisters.
The "Little Toe Buddy" is made from a soft and flexible silicone material that is gentle on the skin and can be worn comfortably throughout the day. It features a loop that fits over the toe, and a cushioned pad that sits between the little toe and the adjacent toe, helping to reduce friction and pressure.
The device is also designed to help promote proper alignment of the toes, which can help to prevent or alleviate foot pain and discomfort. It is a non-invasive and cost-effective solution for people who are looking for relief from foot problems without the need for surgery or other medical interventions.
The "Little Toe Buddy" by McKesson is a useful tool for people who suffer from foot conditions that affect the little toe, as it can help to improve comfort and mobility, and promote healthy foot alignment.
Features
Dual soft Visco-GEL® toe loops keep the spacer in perfect position between digits
Gently separates and aligns crooked toes
Relieves interdigital irritation and corns
Designed to fit between smaller toes
Thin profile fits comfortably in most footwear
Washable, resuable, and effictive for months