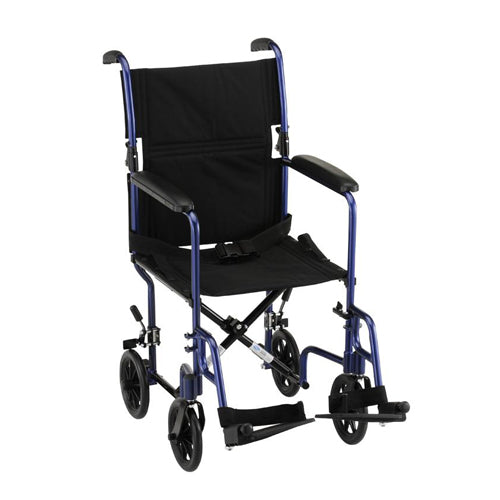 17" Transport Chair with Fixed Arms (327)
Save

17

%
Save

17

%
Original price
$299.95
-
Original price
$299.95
Introducing the Lightweight Transport Chair 17 inch - Your Ticket to Effortless Mobility! This transport chair redefines convenience with its lightweight aluminum frame and thoughtful design, making your journeys smoother and more enjoyable.

Experience the Freedom of Lightness: Weighing in at just 18.75 lbs, this transport chair is easy to maneuver and transport. Its lightweight aluminum frame ensures durability without compromising on portability.

Ultimate Comfort: Padded upholstery and fixed full-length arms provide optimal comfort throughout your ride. Say goodbye to discomfort and embrace a chair designed to make your travels a breeze.

Effortless Foldability: With a quick release fold-down back, the chair folds seamlessly, allowing for easy storage and transportation. It's the perfect companion for on-the-go lifestyles.

Safety at Its Best: Locking rear wheels ensure stability and security, so you can navigate various terrains with confidence. A seat belt adds an extra layer of safety, ensuring you're secure during your journeys.

Customizable Support: Removable and adjustable footrests cater to your comfort, making each ride tailored to your needs. The footplate height can be adjusted from 5" to 9", accommodating your preferences.

Thoughtful Dimensions: The Lightweight Transport Chair 17 inch strikes the perfect balance between spaciousness and compactness. With a seat width of 16.5" and a back dimension of 16.5"w x 19"d, it provides ample room for comfortable seating.

Designed for Your Lifestyle: Whether you're exploring indoors or outdoors, this transport chair is your trusted companion. With a wheel size of 8" and locking rear wheels, you have control and stability on any terrain.

Space-Saving Design: When folded, this chair becomes incredibly compact, with an overall width of just 9.75" and an overall depth of 25.75". It's a space-efficient solution for storage and travel.

Unparalleled Warranty: Trust in the quality of this transport chair. It comes with a Limited Lifetime Warranty for the metal frame, a 5-year warranty for the brakes, and coverage for non-metal/metal parts.

Embrace the freedom of movement with the Lightweight Transport Chair 17 inch. With an overall height of 39.5" and a handle height of 39.5", it's designed to fit your needs and lifestyle seamlessly. Enjoy the convenience, comfort, and reliability of this transport chair on every journey. Choose excellence in mobility - choose the Lightweight Transport Chair 17 inch!

Weight Capacity / Wt Cap: 300 lb.
Weight/ Each Weight: 18.75 lb
Overall Height Open: 39.5″
Overall Width Open: 21.25″
Overall Depth Open: 27″
Overall Height Folded: 30.5″
Overall Width Folded: 9.75″
Overall Depth Folded: 25.75″
Seat Height: 19.5″
Seat Width: 16.5″
Back Dimension:16.5″w x 19″d
Seat Dimension:16.5″w x 15.75″d
Seat Width Between Arms: 14.74″
Handle Height: 39.5″
Arm Height From Floor: 30.5″
Arm Height From Seat: 11.25″
Back Height From Seat: 18.5″
Footplate Height From Floor: 5″ – 9″
Wheel Size: 8″
Wheel Locking/Non-Locking: LOCKING

Warranty:  

Metal Frame: Limited Lifetime Warranty; Brakes: 5 Years; Non-metal/Metal parts.