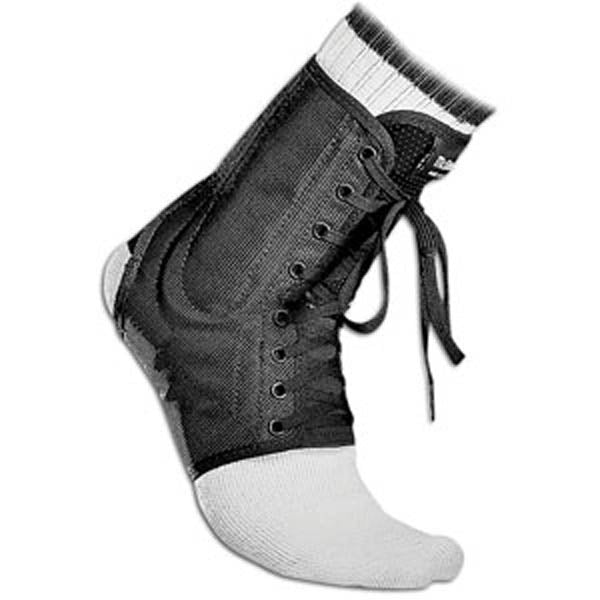 McDavid Lightweight Ankle Brace - MODEL 199R Level 3 SM
Save

0

%
Save %
Original price
$34.99
-
Original price
$34.99
The McDavid Lightweight Ankle Brace - Model 199R Level 3 SM is a top-rated ankle brace trusted by athletes, trainers, and coaches for its outstanding performance and superior comfort. Designed to replace traditional taping methods, this ankle brace offers reliable support and helps prevent common ankle injuries.

One of the standout features of this ankle brace is its reduced-weight design, which allows for improved breathability and cooler comfort during extended use. The brace features two layers of nylon/vinyl mesh fabric, which promote airflow and enhance ventilation. This ensures a comfortable wearing experience even during intense physical activities.

The McDavid Lightweight Ankle Brace incorporates spring steel stays that provide exceptional stability and support to the ankle joint. They help limit excessive movement and protect against sprains and other common injuries. The padded hDc moisture management lining further enhances comfort by wicking away sweat and moisture from the skin, keeping you dry and comfortable.

The notched front, elastic heel, and elastic tongue of the ankle brace contribute to a secure and snug fit. This ensures that the brace stays in place, providing consistent support and protection. The sewn-in arch support adds an additional layer of stability and comfort, helping to alleviate arch-related discomfort.

Durability is a key factor in the McDavid Lightweight Ankle Brace. It is constructed with high-quality materials that withstand rigorous use and maintain their performance over time. You can rely on this ankle brace for long-lasting support and protection.

The ankle brace is designed to fit both the left and right ankle, offering versatility and convenience. It can be worn with any shoe style, making it suitable for various activities and footwear choices.

Upgrade your ankle protection with the McDavid Lightweight Ankle Brace - Model 199R Level 3 SM. Experience the combination of superior support, durability, and comfort that this ankle brace provides. Don't let ankle injuries hold you back. Order now and stay in the game with confidence and peace of mind.
Men's Sizing

Brace Size

XX-Small

X-Small

Small

Medium

Large

X-Large

Shoe Size

Up to 5

6-7

8-9

9-11

11-13

14+
Women's Sizing

Brace Size

XX-Small

X-Small

Small

Medium

Large

X-Large

Shoe Size

Up to 6

7-8

9-10

10-12

12-14

15+