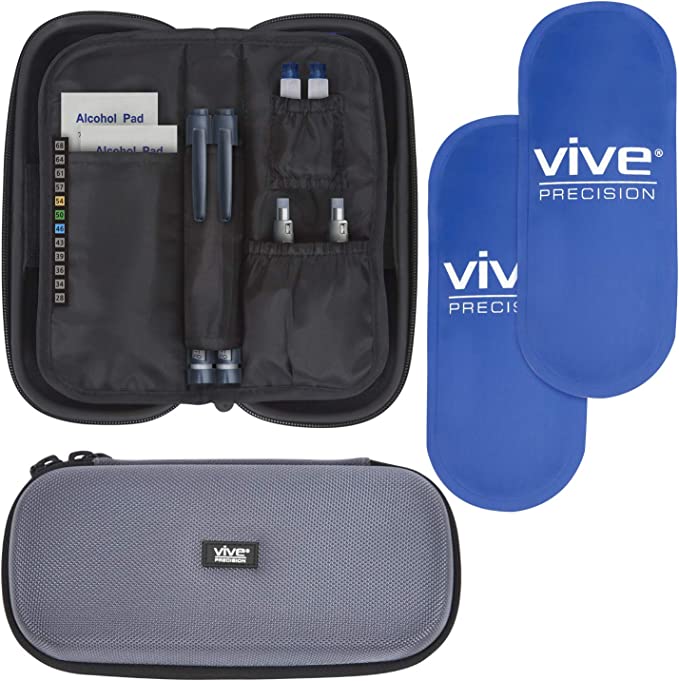 Protective Insulin Travel Case
Save

0

%
Save %
Original price
$36.00
-
Original price
$36.00
The Protective Insulin Travel Case is designed to provide secure and convenient storage for your fragile medications and supplies. Whether you're traveling or simply need a reliable solution for everyday use, this case offers the protection and organization you need.

Constructed with a durable hardshell exterior, this case ensures that your medications remain safe and intact. It can withstand the rigors of travel and everyday use, providing peace of mind wherever you go.

The case is fully insulated with a tight inner seal, offering up to eight hours of cooling. This insulation helps maintain the optimal temperature for your insulin and other temperature-sensitive medications, ensuring their effectiveness and potency. You can confidently carry your medications knowing that they will stay cool and protected.

Inside the case, you'll find a removable organizer pouch that is generously sized and thoughtfully designed. It features three pockets and one pen holder loop, providing ample space to store two insulin needles, three pens, and two pen refills. This organization system keeps your supplies neatly arranged and easily accessible.

To further enhance the cooling capabilities of the case, two reusable, latex-free ice packs are included. These water-based ice packs offer maximum cooling time, allowing you to keep your medications at the desired temperature for extended periods. With the ice packs, you can travel with confidence, knowing that your medications are properly chilled.

Monitoring the internal temperature of the case is made easy with the integrated Fahrenheit thermometer strip. This convenient feature allows you to keep track of the temperature inside the case, ensuring that it remains within the desired range for your medications' stability.

Despite its protective and functional features, the case maintains a compact design that is lightweight and TSA compliant. It easily fits into bags, purses, or carry-on luggage, making it ideal for travel and everyday use. You can take your medications with you wherever you go, knowing that they are stored securely and conveniently.

Ensure the safety and efficacy of your insulin and medical supplies with the Protective Insulin Travel Case. Its durable hardshell construction, insulation, removable organizer pouch, reusable ice packs, integrated thermometer, and compact design make it the perfect companion for safe and convenient medication storage during travel and daily routines.