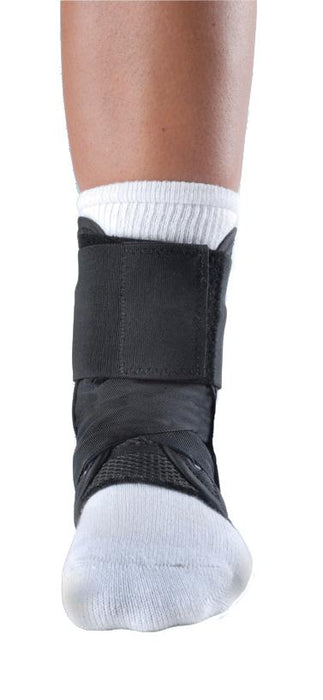 RAPID Zap™ Ankle Orthosis (318)
Save

0

%
Save %
Original price
$56.00
-
Original price
$56.00
The RAPID Zap™ Ankle Orthosis (318) by Hely & Weber is a cutting-edge orthopedic device designed to provide adjustable support and superior comfort for individuals with ankle injuries or instability. It is specifically engineered to promote healing and protect against further injury.
One of the standout features of the RAPID Zap™ Ankle Orthosis is its unique lacing design. This design allows for independent adjustments in the forefoot, midfoot, and ankle regions, providing a customized fit and support based on individual needs. Each area can be easily adjusted to ensure optimal comfort and stability.
The figure 8 straps of the ankle orthosis mimic the taping technique used to support the ankle in a neutral position. This technique helps resist "roll over" ankle injuries while still allowing for natural walking and running movements. The figure 8 straps provide additional reinforcement and stability without restricting mobility.
Constructed with a sturdy and durable design, the RAPID Zap™ Ankle Orthosis ensures reliable support during activities. Its seamless design maximizes comfort by reducing the risk of irritation and friction against the skin. The elastic cuff closure securely fastens the laces and straps while also offering compression to promote proper blood circulation and reduce swelling.
The adjustable lacing panel of the orthosis is a valuable feature, as it allows the opening to accommodate wide or swollen ankles. This flexibility ensures a snug and comfortable fit for individuals with varying ankle sizes or conditions.
Putting on and taking off the RAPID Zap™ Ankle Orthosis is quick and hassle-free. Its design enables easy application and removal, saving you time and effort.
Experience the benefits of the RAPID Zap™ Ankle Orthosis (318) by Hely & Weber. Its adjustable support, comfort, and durability make it an excellent choice for individuals recovering from ankle injuries or dealing with ankle instability. Order now and regain confidence in your ankle's stability and mobility with the RAPID Zap™ Ankle Orthosis!
Unique lacing design allows independent forefoot, mid foot and ankle adjustments

Figure 8 straps mimic ankle taping job in a preferred neutral position providing resistance to "roll over" ankle injury while not restricting walking and running

Sturdy construction and seamless design offers comfort, application, quality and durability

Elastic cuff closure secures laces and straps while offering additional compression

Adjustable lacing panel enables the opening to accommodate wide or swollen ankles

Quick on and off application

Seamless design maximizes comfort
Order No. Description / Options
318 RAPID Zap™ Ankle Orthosis
MEDICAL BILLING CODE L1902