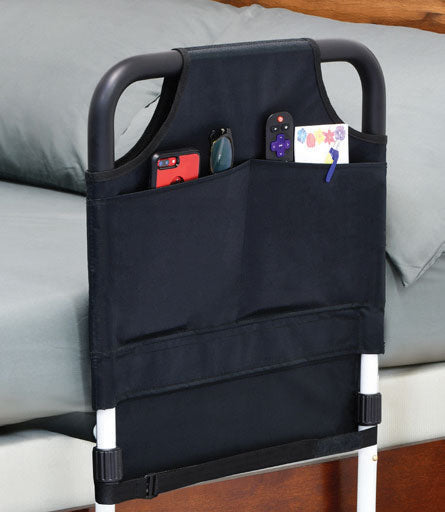 HOME BED RAIL WITH LEGS - Accessory Bag
Sold out
Original price
$19.95
-
Original price
$19.95
Using an accessory bag with a bed rail can offer several benefits, including:

Increased convenience:
An accessory bag attached to a bed rail can provide a convenient storage solution for items that a person may need within reach while in bed, such as a phone, book, or remote control. This can reduce the need for the person to get out of bed, which can be especially helpful for those with limited mobility or disabilities.
Improved organization:
By keeping essential items in one place, an accessory bag can help reduce clutter and make it easier for a person to find what they need. This can be particularly beneficial for individuals who may have cognitive or memory impairments.
Enhanced safety:
If a person is using a bed rail to prevent falls, having an accessory bag attached to the rail can help reduce the risk of tripping or falling while trying to reach for items that are out of reach.
Customization:
Multiple pockets and compartments, which can be customized to fit a person's specific needs. This can help ensure that all essential items are easily accessible and within reach.