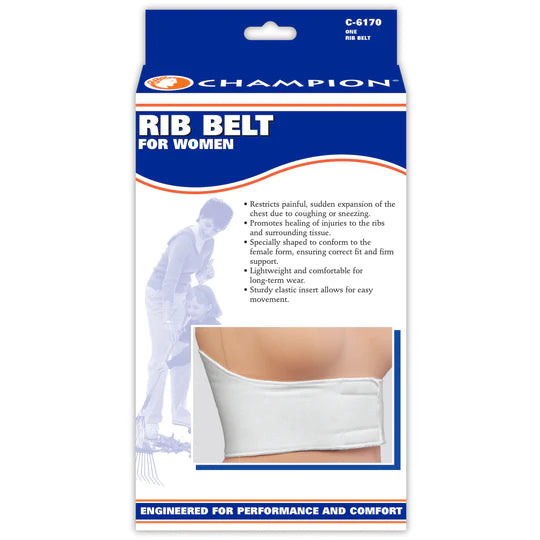 Champion Rib Belt For Women
Save

0

%
Save %
Original price
$24.99
-
Original price
$24.99
The Champion C-6170 is a specially designed rib belt that offers excellent support for injured ribs or strained muscles in the chest or upper back. This belt is particularly helpful in promoting healing and reducing pain associated with rib fractures and contusions around the rib cage.

Key Features:

Provides compression and support for injured or bruised ribs
Restricts sudden expansion of the chest to promote healing and minimize pain
Conforms to the chest for a correct fit and firm support; cut low in front to accommodate the bustline
Sturdy elastic insert allows for easy movement and minimizes binding
Lightweight and comfortable for long-term wear

 

The Champion Rib Belt for Women (C-6170) is the perfect solution for women seeking optimal support and comfort during their recovery from rib injuries. It helps make breathing and body movements more comfortable, allowing individuals to resume their daily activities with confidence.

Ideal for women with rib fractures or contusions, this rib belt is a reliable companion for the healing process. Its thoughtful design ensures a snug fit and targeted support, giving you the relief you need to recover effectively.

Whether you're recovering from a sports injury or dealing with post-surgical discomfort, the Champion Rib Belt for Women provides the comfort and support you deserve during your healing journey. Trust this rib belt to deliver the support you need, so you can focus on getting back to your active and healthy lifestyle.

*Please note: Always consult with a healthcare professional for proper medical advice and to ensure the rib belt is suitable for your specific condition.