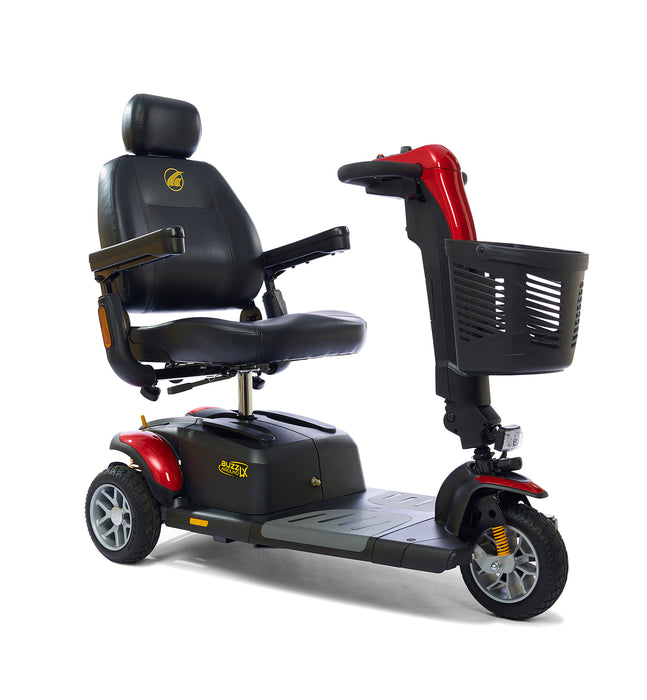 Buzzaround LX Mobility Scooter
Sold out
Original price
$2,648.00
-
Original price
$2,756.00
Description
Specs
Accessories
Video
 

The Buzzaround LX (Luxury) is the latest addition to the Golden Buzzaround scooter line.  This new scooter is one of the industries only "Full-Time" / "All Day" scooters, which is also fully portable for travel.  The scooter offers a 375 lb. weight capacity, an "on demand" easy to operate, fully infinitely adjustable tiller, USB Charging port, and a large, plush highback seat.  The scooter also comes standard with a full lighting package, and 33 AH batteries for all day use!

Infinitely Adjustable Tiller
USB Charging Port
Stylish Black Vinyl Captain's Seat
375 lb. Weight Capacity
Comfort Suspension Springs
40.5″ Turning Radius
Up to 18 Mile Battery Range
3 or 4 wheel models available
Fully disassembles, heaviest part:  Front-  3 Wheel – 50lbs / 4 Wheel – 57 lbs

Max Speed:  5mph
Colors:  Red / Blue
Batteries:  U1
Charger:  Off-board –  ( ask about the charging tray for charging batteries off the scooter)
Designed exclusively for Golden, imported product

Golden Features Exclusive Golden Accessories: Specifications

Operating Range: 18 miles

Weight Capacity: 375 lbs.

Front Bumper and Side Rails Protect the scooter completely from impacts.

This battery dock allows you to easily charge your Golden Buzzaround EX and LX scooter inside your home.

The Cell Phone Holder from Golden fits on the Control Tiller of any Golden Buzzaround or LiteRider Scooter.

The Arm Bag from Golden fits on the armrest of any scooter or power wheelchair.

The Cup Holder from Golden fits on the armrest of your scooter.

This roomy rear basket can fit on the universal mounting bracket located on the back of your Golden scooter.

The Cane Holder Tube from Golden fits on the universal mounting bracket on the back of your scooter.

Golden's Walker Holder can transport a standard or rolling walker and is made of a sturdy metal.

Our bright orange Golden Safety Flag now comes standard with all Golden Mobility Scooters.

This oxygen tank holder fits C, D and E sized oxygen tanks and fits on the mounting bracket of your Golden scooter.

Black water resistant cover provides year-round protection from sun and dust.