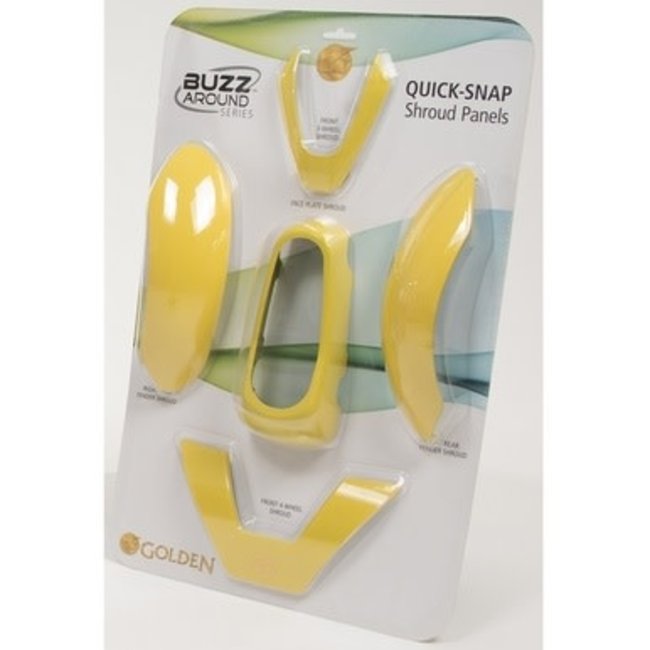 Buzz Around Series Quick-Snap Shroud Panels - Yellow - (Buzzaround EX, XL, and LT Models)
Sold out
Original price
$54.00
-
Original price
$54.00
Upgrade and enhance the appearance of your Golden Buzz Around scooter with the vibrant Buzz Around Series Quick-Snap Shroud Panels in a striking Yellow color. These shroud panels offer a simple yet effective way to add a burst of energy and uniqueness to your scooter.

Designed for easy installation, the Quick-Snap Shroud Panels effortlessly fit onto any Buzz Around scooter without the need for tools. With a quick snap, your scooter's look is instantly transformed.

The shroud kit includes front panels for both 3 and 4 wheel models, ensuring a perfect fit and providing you with the flexibility to switch colors or customize your scooter according to your personal style.

Choose the lively Yellow shade to infuse your daily adventures with a cheerful and vibrant spirit. Whether you prefer Yellow, Silver, or Pink, these color options enable you to keep your scooter looking fresh and exciting.

Express your personality and make your Golden Buzz Around scooter truly your own with the Quick-Snap Shroud Panels. Not only do they add a pop of color, but they also maintain the excellent performance and functionality of your scooter.

Please note that the shroud kit will be shipped separately from your scooter, allowing you to receive and enjoy this delightful enhancement for your scooter with ease.

Order the Buzz Around Series Quick-Snap Shroud Panels in Yellow now and enjoy the freedom of customizing your scooter's look to match your individual taste and preferences. Elevate your scooter experience today and let your scooter reflect your vibrant personality!
Also Available in
Pink
and
Silver