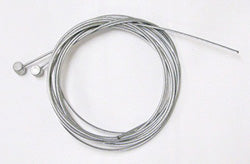 Replacement Brake Cable - Nova Medical
Sold out
Original price
$8.00
-
Original price
$8.00
Maintaining the safety and functionality of your mobility aid is of the utmost importance. That's why we offer high-quality replacement parts like the brake cable, an essential component for your device.

Our brake cable, SKU P-CABLE, is a genuine Nova Medical product, assuring you of its quality and compatibility with your Nova Medical mobility aid. With the barcode 652308111799, this replacement part is easy to identify and order.

Replacing the brake cable on your mobility aid can enhance its performance, ensuring it functions smoothly and safely. If you've noticed a decrease in the efficiency of your device's brakes, it may be time to consider a replacement.

Remember, it's essential to replace worn-out or damaged parts as soon as possible to maintain the safety and reliability of your mobility aid.

Order your brake cable replacement today and keep your Nova Medical mobility aid operating at its best. Be sure to consult your user manual or a professional for installation instructions. If you need further assistance, feel free to contact our customer support—we're here to help you with all your mobility aid needs.