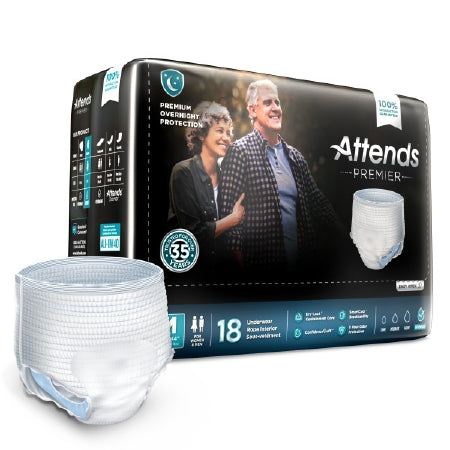 Attends Premier Underwear
Save up to

0

%
Save %
Original price
$35.00
-
Original price
$36.00
Attends Premier Underwear is a premium product meticulously designed to provide superior protection and comfort. It features advanced technologies that ensure optimal performance and dignity throughout the day and night.

The Dry-Lock® Containment Core is a revolutionary feature that swiftly locks away liquid, providing you with unparalleled dryness and comfort. No more worries about leaks or discomfort; this core is designed to keep you confidently dry.

With SmartCool™ Breathability, Attends Premier Underwear ensures 100% breathability, promoting a healthy and comfortable experience for your skin. Stay cool and refreshed, knowing that your skin is well taken care of.

ConfidenceCuff™ Elastics are strategically integrated into the design to provide exceptional leak protection. Feel confident and secure during your active lifestyle, as these elastics ensure discreet and reliable coverage.

The high-rise, full-fit protection of Attends Premier Underwear guarantees a comfortable and secure fit in all the right areas. Its ultra-plush design offers unmatched comfort and ease of wear, ensuring you can move freely and confidently.

Odor control is another added benefit of this premium underwear. Feel confident and fresh throughout the day, regardless of your activities.

Attends Premier Underwear is the perfect solution for those seeking premium comfort, protection, and dignity. Say goodbye to worries and discomfort, and embrace the convenience and confidence that come with wearing Attends Premier Underwear.

Maintain your active lifestyle and enjoy the ultimate protection and comfort with Attends Premier Underwear. Order now and experience the difference it can make in enhancing your daily routine. Trust in Attends to provide you with top-quality products that cater to your needs and ensure your well-being.
Features

Designed with a Dry-Lock® Containment Core that locks away liquid faster, SmartCool™ Breathability for 100% breathability to help improve comfort and help promote healthy skin, and ConfidenceCuff™ Elastics for leak protection for confident days and dignified nights.
The high-rise, full-fit protection and ultra-plush design results in a product that fits comfortably in all the right areas, while the odor control provides added confidence to help you maintain your active lifestyle.