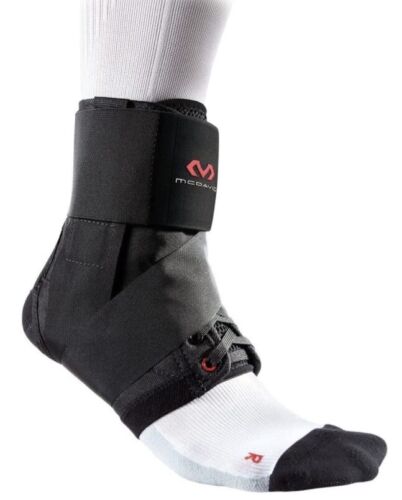 Ankle Brace W/Straps 195 LRG
Save

0

%
Save %
Original price
$39.99
-
Original price
$39.99
The Ankle Brace with Straps 195 LRG by McDavid is a highly effective and reliable solution for preventing and recovering from common ankle sprains. Engineered with athletes in mind, it provides the support and stability needed for optimal performance and protection.
The supportive design of the ankle brace features a figure-6 strapping pattern that closely simulates the support provided by athletic tape. This design helps to limit excessive movement of the ankle, reducing the risk of sprains and providing extra reinforcement during physical activities.
For a custom fit and added comfort, the brace includes a compression and comfort top strap. This strap allows you to adjust the tightness without the need to unlacing or removing your shoe. You can achieve a secure and comfortable fit that supports your ankle without compromising flexibility or mobility.
The Ankle Brace with Straps 195 LRG incorporates a breathable ventilated tongue, promoting airflow to keep your foot cool and comfortable during extended wear. The padded lining further enhances comfort and reinforces the closures, ensuring a snug and supportive fit.
Athletes participating in an independent study at a major research university experienced 3x fewer injuries when wearing the McDavid 195 ankle brace. This is a testament to its effectiveness and reliability in providing maximum protection and support.
Constructed of a single-layer polyester fabric, the ankle brace offers full support while maintaining a minimal weight. It is designed to fit either the left or right ankle, providing versatility and convenience.
With its level 3 maximum protection rating, the Ankle Brace with Straps 195 LRG is the ideal choice for athletes, fitness enthusiasts, and individuals recovering from ankle sprains. It offers the support, stability, and comfort necessary for a safe and confident performance.
Don't let ankle sprains hinder your progress. Choose the Ankle Brace with Straps 195 LRG by McDavid for superior protection and recovery. Order now and experience the difference it makes in preventing and recovering from common ankle sprains.
PREVENTS and/or helps RECOVER from common ankle sprains

SUPPORTIVE Design simulates athletic tape with figure-6 strapping pattern

COMPRESSION and COMFORT top strap for custom fit

ADJUSTABLE without unlacing or removing shoe

BREATHABLE ventilated tongue

COMFORTABLE padded lining reinforces closures

Athletes participating in an independent study at a major research university had 3x fewer injuries when wearing the Mcdavid 195 ankle brace
This ankle brace is intended to fit "snug" for the best support. If your measurements are close to the maximum size range, we recommend sizing up for comfort.

Fits left or right

Athletes participating in an independent study at a major research university had 3x fewer injuries when wearing the 195 ankle brace

Constructed of a single-layer polyester fabric for full support and minimal weight

Design simulates athletic tape with figure-6 strapping pattern

Compression-comfort top strap for comfort fit

Fully adjustable without unlacing or removing shoe

Ventilated tongue breathes with you

Padded lining and reinforced closures

LEVEL 3: Maximum Protection

Fits left or right ankle