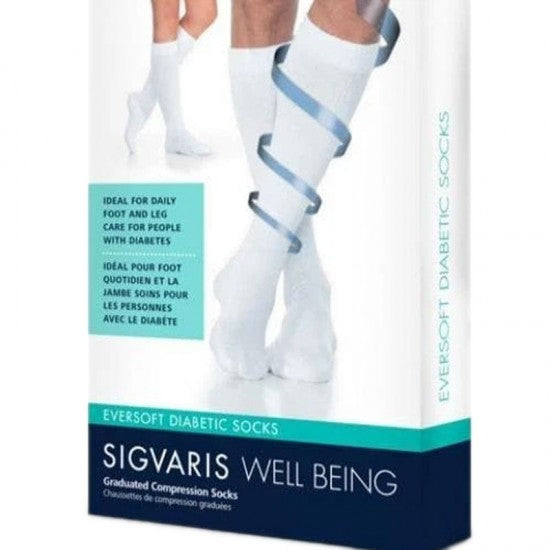 (160C) Eversoft Diabetic Socks 15-20mmHg
Save up to

0

%
Save %
Original price
$19.99
-
Original price
$21.00
Introducing (160C) Eversoft Diabetic Socks with 15-20mmHg compression, specially designed to cater to the unique needs of individuals with diabetes. These high-quality compression socks by Sigvaris offer a comfortable and supportive solution to promote circulation and alleviate discomfort associated with diabetes.

Featuring a gentle and graduated compression level of 15-20mmHg, these diabetic socks provide targeted pressure that helps improve blood flow in the lower extremities. By enhancing circulation, these socks can aid in reducing swelling, preventing complications, and promoting overall foot health for diabetics.

Crafted with care and precision, (160C) Eversoft Diabetic Socks are made from soft and durable materials that offer all-day comfort. The socks are designed to stay in place without constricting or irritating the skin, ensuring a pleasant wearing experience.

The compression technology of these socks assists in managing symptoms like edema, leg fatigue, and varicose veins, making them an essential part of diabetic foot care.

Experience the benefits of compression therapy tailored specifically for diabetics with (160C) Eversoft Diabetic Socks. Order now and discover the comfort and support that these socks offer to enhance your overall well-being. Trust in Sigvaris to deliver premium quality diabetic compression socks that prioritize your foot health and ensure a comfortable lifestyle.